Small World Coffee Hour
What is a Small World Coffee hour?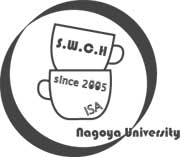 This small world coffee hour is organized once every month, with the intention of increasing opportunities for multi-cultural exchange within the campus. It is place for inter-cultural interaction, where international students and Japanese students with different backgrounds meet and talk about their daily life and cultural differences in a very relaxed atmosphere. You can enjoy coffee or tea and a game (networking game), which can enhance cultural exchange or friendship. Please do participate in this, as this is an opportunity for making friends with people across the countries, from undergraduate level, graduate levels etc. It is a chance for enhancing your international existence.
Voice of the Participants
"I was able to listen to various interesting and overseas talk"
" It was good, I was able to talk with everybody freely"
" It was interesting to learn about foreign countries"
" I could have the real experience of listening to an International student"
"I was able to talk to students from various age groups and scholastic years"
"Through this coffee hour my circle in the university has widen".
Scheduled programs
Spring Semester 2022
Small World Coffee Hour
"Let's play board games"
Life game, Jenga, Blocks, UNO... etc
Date:Wed, 25th May 14:45-16:15
Language:English & Japanese
Place:Higashiyama Campus (former IEEC Building)
(We will inform more details by e-mail)
Maximum:20 participants
(Due to the situation, we might change to online activities)
Reservation required
Please sign up from here

For more details: click here

Date and venue is displayed on bulletin boards of each department. Your participation will be appreciated. Please keep a check on the bulletin boards.
Would you like to be our Small World Coffee Hour Staff?
Every semester, the Global Engagement Center Support Team accepts application from Japanese and international students who would like to plan and conduct this Coffee Hour together. Please contact us if you are interested in working as a student staff.
Voice of the staff
Enjoy meeting many people at the coffee hour!
You will also grow upon meeting an awesome personality!
It is not difficult managing this with any other task!
This is for those who would like to unfold their possibilities!
We feel delighted every time!
Inquiries regarding Small World Coffee Hour
Global Engagement Center Support Team, Nagoya University
Telephone : 052-788-6117 email: isa@iee.nagoya-u.ac.jp

Top of Page