Global Family Program
As of May 2018, there are about 2,000 international students from 109 countries studying at Nagoya University, making the University campus a truly global community. Taking advantage of this rich environment, the Global Family Program organizes a short term homestay program on weekends and national holidays, as well as letter exchange programs depending on the time, for international students. University staff, members of local volunteer groups, and individuals who are interested in international exchanges act as host families for the program.

In the past, international students participating in the program have enjoyed eating home-cooked Japanese meals, playing with children, talking with local people and many other fun activities. Students have also had the opportunity to introduce their own cultures to their host families.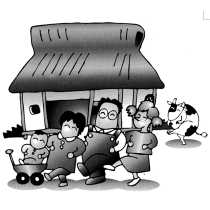 To international students
The schedule for the Global Family Program is posted on the bulletin boards on the first floor of the International Center building and our Facebook page https://www.facebook.com/NUECIS.ACS. If you are interested in participating, submit a completed International Student Application Form along with a photograph of yourself to the ACS Office by the deadline posted. This program is available to students of Nagoya University.
To Prospective host families
NU students and staff, alumni and members of volunteer groups may be considered for host family positions.
Currently, we don't accept new applications.
Inquiries: Global Engagement Center Support Team,
International Affairs, Nagoya University
Tel: 052-788-6117
E-mail: chikyu@iee.nagoya-u.ac.jp

Top of Page